Notice: Explore Nearby Ski Areas with NOASC's Free Resort Transfers!
Dear snow sports enthusiasts,
We are thrilled to inform you that for the upcoming 2023/2024 winter ski season, NOASC will be focusing on providing ski and snowboard lessons exclusively at non-Niseko United ski resorts. To enhance your winter adventure, we're offering complimentary resort transfers included in your lesson package. Take this opportunity to discover and enjoy the neighboring ski areas!
Thank you for choosing NOASC for your winter sports experience. Let's make this ski season unforgettable together!
Best regards,
The NOASC Team
Contact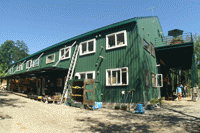 NOASC Head Office
20-6 Aza Yamada,

Kutchan

Hokkaido

044-0081

Japan


+81.136.23.1688

+81.136.23.1690

090-7514-1691
Download information as:
vCard
Contact Form
Miscellaneous Information
Our office is open all year round between the hours of 8am to 6pm(Winter) and 9am to 5pm(Summer). When calling outside these times, or times when our office is unmaned, please leave a message on our answering machine and we will try to return your call on our return, or early the next day.