Winter Rafting in Niseko

Niseko Winter Rafting Tours (1)
NOASC Niseko runs our famous rafting tours all year round with our winter rafting operating from from early December until late March. Your river entry from the side of the Niseko Winter Riverbank will get your blood pumping and set the mood for this tour.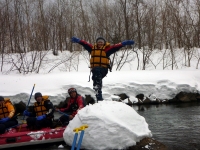 Niseko Winter Rafting
As the water levels drop around Niseko with the disappearing snow melt, we move up river to our Summer rafting course. With the warming conditions your Raft guide will introduce you to your river and surrounds by getting you and your crew involved in various activities/games, while you negoitating the numerous rapids along the way. Even though the overall length of the course is only approximatley 6.5km, you will still be on the river for approximately 90-120 mintues.